Welcome to Calspan!
When you arrive at any of our Calspan locations, you will be greeted with an overview of our security policy, detailing items like camera use (including phones) and the protocol for visitors who are not U.S. citizens. Calspan takes the confidentiality of every program very seriously and exercises different levels of protection based on the needs of each and every program. Afterward, you will be provided with security badges and greeted by your Program Manager. This individual will be your escort and prime contact throughout your stay at Calspan.
Every Calspan facility provides different customer areas that include amenities to make your visit as comfortable and productive as possible. Some examples of the amentities are observation areas to witness testing and customer conference rooms for confidential discussions. Within these areas are whiteboards, speaker phones, secure Wi-Fi high speed Internet access, and secure access to Calspan's FTP site. The location and arrangement of these rooms also provides you with free and open access to engineers and technicians, further promoting open communication as we strive to make our customers feel part of the process.
Other amenities can include:
Kitchenette with a microwave and refrigerator fully stocked with water, soda and snacks
Large LCD monitors for reviewing data, including photos and video
Whiteboards and flipcharts to facilitate group discussions
LCD televisions with Direct TV for those who want to keep abreast of news, sports, etc.
Lunch and dinner (based on customer needs and timing of testing)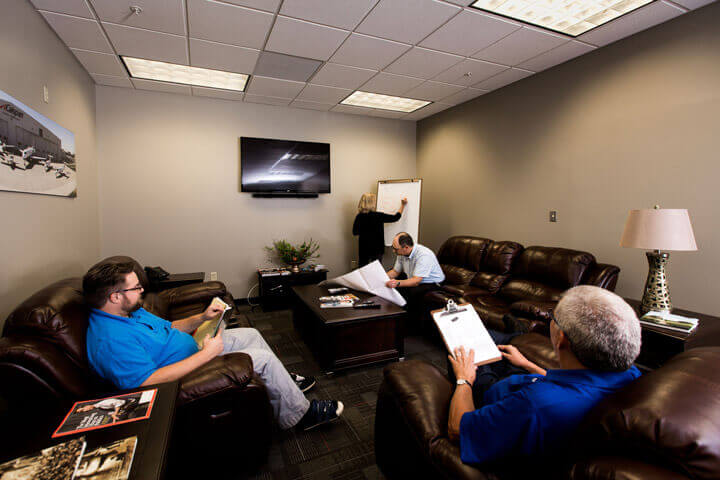 ---
Focus on Communication
An important aspect of our collaboration with customers is open communication, starting from the moment we receive an inquiry. Whether it be by email or by phone, we will respond promptly and:
Listen to your engineering design and testing needs
Understand your program objectives, timeframe and budget
Make recommendations based on our experience, so that you receive the highest degree of quality data, in the shortest period of time and for the best possible value
Follow up as necessary based on this initial discussion by a team member from Management, Business Development, Engineering, or Contracts Administration
Issue either a quotation or formal proposal, depending on the complexity of your program
Once we receive a purchase order or other form of formal communication to initiate your program, Calspan will assign a Program Manager to work with you. This individual will work in partnership to establish critical requirements, required deliverables, and a schedule that accommodates your engineering design and testing needs.
During these discussions, your Program Manager can provide, if needed, recommended hotels with Calspan preferred rates and information about local attractions, sporting events, restaurants, shopping centers, etc. to enhance your visit. If you are flying into the local airport, we can also pick you up and drop you off.
---
Test at your Desk
Calspan has a great collaborative tool that brings our lab to you! With the "Test at your Desk" feature, customers can watch a test running at Calspan from anywhere you can connect to the internet. Our improved and secure hi-definition cameras allow customers to watch a live test from the comfort of your desk or while on the road. The service allows real-time visibility to our team during set-up and will save you time and money on travel expenses.